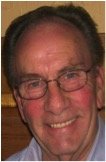 Donald Joseph Ingraham
Donald Joseph (Joe) Ingraham age 79, of Battleground, Washington died Friday, April 12, 2019, after a long battle with cancer. The love of Joe's life, best friend, and wife of 33 years Doris (Dee) refused to leave his side and cared for Joe in every way imaginable until the time of his death.
Joe was born October 6, 1939, to Leon and Doris (Sayers) Ingraham in Morris, Illinois. Joe worked as a truck driver for his father's trucking business in Verona, Illinois until 1966, where he joined the Teamsters Union. Here, Joe logged well over a few million miles during his 53 years of Union driving experience.
Once retired, Joe and Dee traveled together in their motorhome where they loved and cared for one another at every turn. And at every turn they always found time to include distant family members into their journeys.
Joe loved yard work, home-projects, playing pool and cards. He took comfort in reading books on his back porch to the backdrop of a bubbling stream surrounded by wildlife. He had names for hummingbirds including dubbing one the "Sheriff," and named a squirrel "Jimmie." He analyzed their behaviors as if human life was truly a part of their existence all for a laugh… a laugh, which made all of us laugh too.
Joe is survived by his wife Dee; sons, Rick (Lisa) Ingraham; Jeff (Kim) Ingraham; Walt (Lisa) Newman; Randy (Patti) Mathews; daughters, Jodi (Kevin) Bradfield; Cindy (Dave) Westover; Shelly Mathews; 15 grandchildren; Seven great-grandchildren; brother, Gary (Nancy) Ingraham; sister, Sandra Vin
No burial services will commence as directed by Joe's last wishes. Joe and Dee lovingly joked that he would be placed into a closet until the proper time of interment. So until this time, the family respectfully requests you post your thoughts and condolences here.
Joe, in a unique and undeniably individual way, you placed a special part of your heart into each one of us. And just as uniquely designed you ensured not one part would ever mean more or less than the other. For this we are forever grateful.
Husband, dad, grandpa, brother and friend, we will never forget too how you touched each one of our lives or just how much you meant to us all. May the peace of our Lord be with you and God rest your soul.