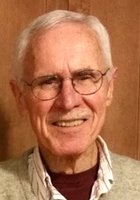 Larry J. Swatosh
Larry Joe Swatosh
February 1, 1937 – August 28, 2018
We are heartbroken at the passing of our husband, father, and grampy, Larry Swatosh. Larry was born in Ardmore, Oklahoma to Leonard Swatosh and Emma Brower Swatosh, and lived there briefly until moving to northwest Iowa. When Larry was six, his family moved here, his dad finding work at Alcoa. He attended Hough and Fruit Valley Elementary Schools, Shumway Junior High, and Vancouver High School (class of 1955). He met his future wife, Judy Larson, at Shumway Junior High School. He graduated first from Clark College and then the University of Washington with a degree in architecture. He worked many years locally as an architect, ultimately co-owning Dolle Swatosh Partnership with Jim Dolle.
Larry has left a lasting impact on his family and the community. He valued the arts, education and the environment. He went to concerts, games and fundraisers--cheering on his kids and grandkids. Larry loved spending time at the beach with family and friends. Over the years he spent time sailing, hiking, camping, woodworking, playing tennis, and traveling.
Larry was civic minded and involved in his community in a multitude of ways. In the mid-seventies, he became the youngest appointee to the Vancouver Planning Commission. Since then, he has served on over a dozen boards and committees including the Vancouver Cultural Commission, Columbia Non-Profit Housing, American Red Cross Board, Friends of the Arts, Chinook Trail Association Board, Friends of Vancouver Tennis Center, Clark College Alumni Association Board, Jane Weber Evergreen Arboretum, and was a member of the American Institute of Architects. In addition, Larry was a long time member of the Rotary Club of Vancouver, and he was honored with the Outstanding Clark College Alumni Award in 2008.
He is survived by his wife of 60 years, Judy; his son, Joe (Jeri); his daughters, Eileen Buslach (Joe); Emily McBroom (John), and eight grandchildren; Drew and Park Swatosh; Ian, Jacob, and Nathan Buslach; and Matthew, Adam, and Maggie McBroom; brother Jim (Bennie) and family, and by numerous cousins across the country.
In lieu of flowers, donations to honor Larry's life can be sent to the Chinook Trail Association at P.O. Box 61686, Vancouver, WA, 98666, or the Hope Dementia Support Group at hopedemetia.org, or the Clark College Foundation at clarkcollegefoundation.org.
Please join us to celebrate Larry's life on Saturday, September 8th at 2pm in the Gaiser Student Center at Clark College, located at 1933 Fort Vancouver Way, Vancouver, WA 98663.