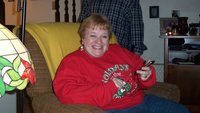 Theresa Marie James
Theresa M. James
February 22, 1960 - February 8, 2018
Theresa James (née Getty) lost her battle with cancer in her home on February 8th in Vancouver, WA. She was 57.
Theresa was born on February 22nd, 1960 in Baker city, OR to her parents, Delbert and Louise Getty; she married Bennie James May 22nd 1992. Theresa was currently working in the healthcare field for Legacy Healthcare.
Theresa had a passion for Reading, cooking, knitting and Crocheting, her true love was her grandchildren, spending time with her family and summer camping trips to eastern Oregon with her husband Bennie and their beloved dogs.
Theresa is survived by her Husband Bennie James; her son and daughter-in-law, Casey Fletcher and Jeanette Bowen; daughter and son-in-law, Monica and Bryan Hayden; her brothers, Kevin Getty, Claude Maness and Kurt Maness; and six grandchildren; Reyanna, Luke, Kyra, Tommy, Cole and Hope. She is preceded in death by her son, Corey; her Brother, Delbert; and her parents Art and Louise Maness and Delbert Getty.
A celebration of life will take place on February 22 at 3:00 p.m. at the Vancouver Elks lodge. All friends and family are welcome to attend and celebrate Theresa's life and what would have been her 58th birthday.