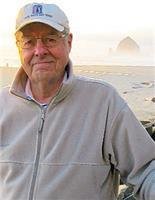 James W. Shinn
James W. Shinn
January 8, 1932 - October 6, 2017
James Shinn, lifelong Vancouver, WA resident, family man and friend to many, passed away after nearly three years with MDS, a cancer of the bone marrow and blood.
Growing up in the Barberton area, Jim played basketball at Battle Ground High School followed by a year at Clark College. Basketball and baseball dominated his time there, but Jim soon noticed a cute girl in his art class named Elly Osborn. They married soon after.
Jim enlisted in the Air Force in 1952 and spent the next year overseas. After his discharge, Jim's artistic talents led him to the The Oregonian and the Portland Reporter. At the Reporter, he began a three-year run drawing "Packy and his Pals," a daily page one cartoon featuring Portland's celebrity elephant.
Jim moved his drawing board back to his hometown in 1964 and began what would be a 30-year career as the Columbian's Art Director. During those years, Jim's versatility and talent was on display in his annual New Year's Day, front page year-in-review montage. His trademark dog, often lurking on the edges of his editorial cartoons, became "Columbo the Weather Dog," reacting to the day's forecast. Over the years, colleagues and family have received personalized, often hilarious Jim Shinn art in the form of birthday, retirement or special occasion cards.
Athletics were a central theme in Jim's life. Golf was an early passion. Jim was an early member at Green Meadows and in later years he regularly met his golf buddies at Hartwood. Through the 70's and into the 80's, he led lunch-hour runs with his jogging converts at the Columbian and completed seventeen marathons. Jim often biked to work and rode several Cycle Oregon and Seattle to Portland events. Jim was always active and brought many friends and family along for the ride!
Jim was the definition of the term "People Person." Always keeping up with his vast and varied network of friends, he was always more interested hearing about their lives than talking about his own. That is, unless he had a chance to talk about his family. Jim and Elly's beloved group of lifelong friends, "The Gang" and his Columbian veterans, "The Sunshine Boys," were two special groups who got together often.
As the recent MC and organizer for the Battle Ground High School Class of 1950, Jim had just finished their 67th Class Reunion get-together in August, touching bases with many of his longtime former classmates.
The Oregon coast was a treasured getaway for Jim. From trailoring with his young family up and down the coast to eating his annual lobster dinner at Cannon Beach during more recent times, the beach was his favorite place.
Jim is survived by his wife of 64 years, Eleanor; son, Jeff (Mary); daughter, Jennifer Cahill (Jim); grandchildren, Laura Michaels (Shinn) (Billy), Ben and Andy Cahill; and sister, Marlene Wise. Jim was preceded in death by his parents Walt and Mary Shinn; and an infant daughter, Julie.
In lieu of flowers, the family would appreciate donations be made to Shriner's Hospital for Children in Portland. Early in their marriage when the need was great, but finances were slim, Shriners provided wonderful care and treatment for their son Jeff.
A celebration of Jim's life will be held Saturday, October 28 from 2-4 p.m. at the Red Cross Building at Fort Vancouver, 605 Barnes Street. We hope all of his many, many friends will come casual to share their stories, laughs and hugs.
Donations can be made at: Shrinershospitalsforchildren.org (Please select Portland, OR) or Portland Shriner's, 3101 SW Sam Jackson Park Rd., Portland, OR 97239.